Railroad Car Personal Emergency Intercom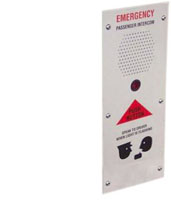 PEI Description
Our MPL-2 microphone with integral pre-amplifier, line-driver, talk button and talkback speaker, is available in a variety of custom metal enclosures to fit most railroad car installation requirements. This mic has the important advantage of overriding all electrical noise in transit vehicles. This property permits placing microphones conveniently accessible to passengers in any location within the transit vehicle.
Model MPL-2 provides distortion free output in extremely loud sound fields, over 110 dB SPL. The electronic circuit amplifies the signal and filters the sound to cover the voice range while removing extraneous vehicle noises. The line driver boosts the output power for routing to the central control module of the public address or monitoring system.
Built for transit use, the MPL-2 meets the stringent environmental needs of wide temperature range, sparks from electrical commutation, constant vibration, and long term use. Over 12,000 are installed in the passenger rail systems around the United States.
The MPL-2 can be modified to meet many special requirements.
PEI Microphone and Line Driver Specifications
Microphone
Electret element w/FET
Pattern: Omnidirectional
Bias: 2 to 5 volts
Max Sound level: 120dB SPL
Integral moisture screen
Acoustical shield
Pre-Amplifier System
Sensitivity: 2 Vrms/100dB SPL
Overload Level: - 19 Vpp @ 24 Vdc - 8 Vpp @ 12 Vdc
Frequency Response:150Hz-10kHz
18dB/oct HP and LP Filters
Distortion: <2% up to clipping
Noise: -80 dB re 1 Vrms
Line Driver
Output Impedance: 100 ohms
Recommended load: 1k-10 k ohm
Withstands continuous short circuit
Unconditionally stable
Supply Requirements
Nominal power: 12 Vdc
Operates from 6 to 36 Vdc
Transient Protection
Output Line decoupling
Input and output RF filters
All leads safe for transients of
+/- 100 Volt, 100 microsecond
Physical
Size: 2.75 x 1.45 inches
SMT and thru-hole components
Coated Circuit Board.
Rubber Grommet mounts
All component references marked
Manufactured to IPC-610 standards
Environmental
Temperature: -30 to + 65 deg Celsius
Humidity: 5% to 90% non-condensing
Vibration: 8G's for 20 ms
Splash Proof