Railroad Car PA Amplifier
Click on image for larger picture
OP98X Description
Ambient noise sensing automatic level adjusting PA amplifier
Meets all needs for long-term performance in public transportation
PA systems
Drives multiple loudspeakers over wide acoustical, electrical,
mechanical and environmental conditions
120 watt audio output
70 volt system and 8 ohm
4 logic controlled output zones
Over 2500 Installed on NYC MTA
Built and tested for metropolitan subway cars, the OP980 meets all rigorous needs for long term performance in all transit public address systems. The amplifier is capable of driving multiple loudspeakers with precision and safety over the wide acoustical, electrical, mechanical, and environmental conditions of a subway car.
There are four output zones to permit addressing the passenger compartment, the trainman cabins, and the left or right exterior speakers, or any combination. With 120 watts of power available, the amplifier is conservatively utilized in applications requiring up to 36 distributed loudspeakers In addition to providing unequalled fidelity and utility, the amplifier has a unique circuit that automatically adjusts the volume level relative to the background noise in the train car. This ensures intelligible messages during peak subway usage while providing moderate levels when there are few riders.
Over a thousand OP980 PA Amplifiers are in current use. In service since 2004 with zero failures in service.
OP98X Specifications
Audio
Power output: 120 wattsMax, 60 watts nominal
Frequency Response: 100 Hz - 10 kHz +- 1 dB
Distortion: THD is 0.5 % or less
Background Noise: 7 millivolts (A-weighted) or 80 dB down
Output Level - No level change vs. DC over the operating voltage range
Input stage
Transformer coupled - dc blocked - 10 kohm input impedance
Audio input voltage - 0.3 to 5 Vac, potentiometer set up
Active high pass filter 100 Hz or 300 Hz (for horn speakers)
TVS diode protection for any input signal above 10 Vac
Power Amplifier Stage
Class B - Biased at cut off - 50 ma quiescent
Transformer coupled - 70 volt and low impedance
Output limited to 120 watts regardless of DC power
Short circuit protection - turns off for too low load
Four output zones - any or all may be ON
Output levels - Zone 1 is 70 volts - Zone 2, 3, or 4 can be 70V or direct
Automatic Level Adjusting
Uses the loudspeakers as microphones to sense ambient noise
Gain stays latched during announcements
Listening range can be adjusted from 50 to 80 dB noise SPL
Sensitivity can be set up for up to 20 dB gain change.
Control Inputs
PTT for zones 1,2,3,4
Automatic level enabl
Activate by pull to common
Input impedance 10K ohms
Electrical
DC Power - 18 volts to 64 volts DC
Current - 0.05 Amperes quiescent
- 5 amperes @ 60 watts audio output
- 10 amperes at 120 watts audio output
Filtering - Inductor, 5 kW TVS at 65 volts, 5700 uF
RF field or radiation - Non existent
Spike protection - Fully protected for 3000 volt 150 Joules
Ground Isolation - 2,000V, circuit to metal chassis ground
Mechanical
Aluminum case with integral heat sink
Case Size: 4.75" x 6.5" x 10.5"
Mounting: four holes on 8" X 5" centers on a 8.5" X 11" plate8
Weight: 11 lbs
Connectors - Input/output/control/power - AMP Mini 24 pin
Ground - 1/4 inch stud with nut and washers.
Construction
IPC -610 Assembly
ISO 9002 Process
Environmental
Temperature Range - -30 to + 80 degrees Celsius
Humidity - 99 percent, non-condensing
Vibration - 2 G's continuously, 8 G's for 20 ms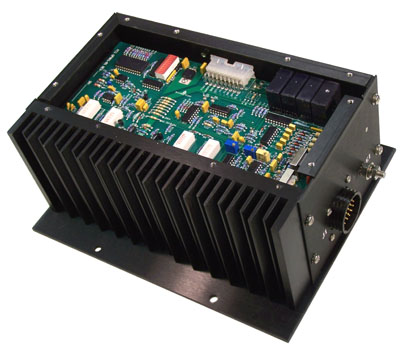 Click on image for larger picture